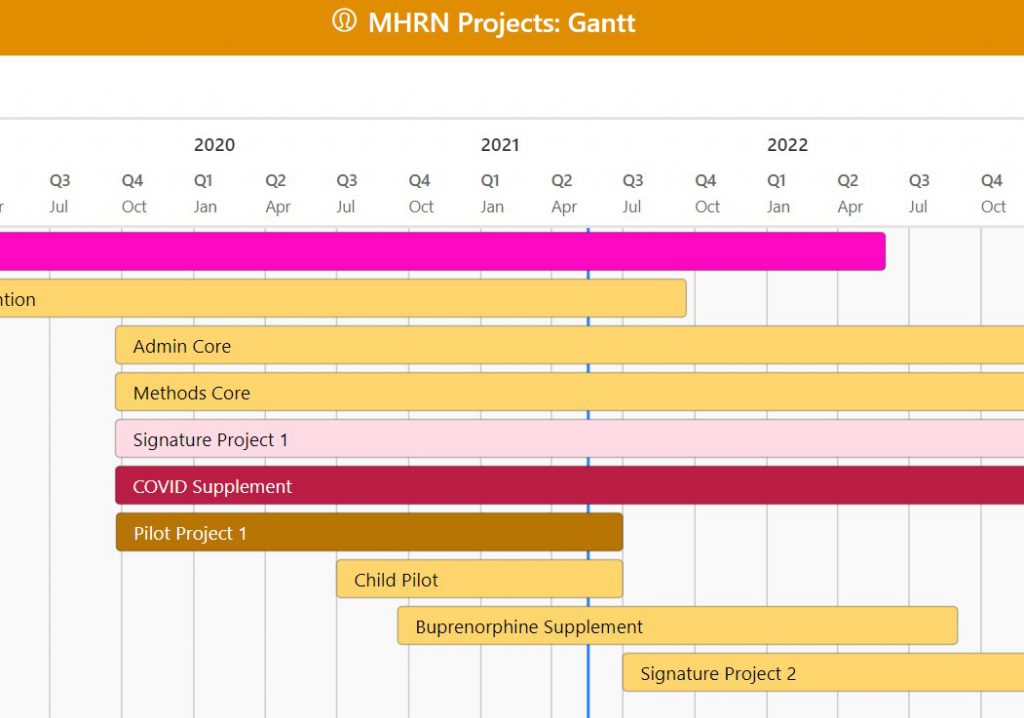 Funder: NIMH
Grant Number: U19MH121738-02S2 (supplement to main MHRN cooperative agreement)
Grant period: 9/17/2020 – 8/31/2022
Brief Narrative: This large observational study will evaluate the effects of initiating buprenorphine treatment on subsequent suicidal behavior among people with opioid use disorder, including those with and without co-occurring mental health conditions or other known risk factors for suicidal behavior. We will use comprehensive health records data from four large health systems serving a combined member/patient population of approximately 11 million. Analyses will examine the overall effect of buprenorphine treatment on subsequent suicide attempts or death, heterogeneity of effects in patient subgroups, and specificity of effects to buprenorphine vs other medications.
Lead Site: KPWA
---
Funder: NIMH
Grant Number: 1U01MH114087
Grant Period: 08/03/2017 – 05/31/2022
Narrative: Health systems at six participating sites have all committed to developing and implementing various components of a National Zero Suicide Model (NZSM), originally developed at the lead site for this study, Henry Ford Health System (HFHS). Each health system will decide which components to implement at their respective site. This study will develop metrics to measure fidelity and outcomes for the NZSM components implemented in each system using EHR and insurance claims data. The project will then use these metrics to conduct fidelity and outcome evaluation of the various NZSM approaches in each system using an Interrupted Time Series Design.
---
Funder: NIMH
Grant Number: 3U19MH121738-02S1
Grant Period: 9/30/2020 – 6/30/2021
Narrative: The Mental Health Research Network conducts practice-based mental health research in large healthcare systems serving over 25 million patients in 16 states, with a focus on having large-scale data infrastructure available for rapid analyses. This study takes advantage of that infrastructure to study how changing from in-person to phone- or video-visits during the COVID-19 crisis disrupts care of people with mental health conditions, including those in important and potentially disadvantaged subgroups. This work will help us understand who needs more support during crises as well as determine who benefits most from telehealth visits as the field of behavioral health care continues to transition to using more of these services.
---
Funder: NIMH
Grant Number: U19MH121738
Grant Period: 09/23/2019 – 06/30/2020
Narrative:​ Practice-based research has the potential to dramatically improve the speed, efficiency, relevance, and impact of mental health clinical and services research. Mental Health Research Network (MHRN) III will include 14 research centers embedded in health systems serving a combined population of over 25 million patients in 16 states. MHRN infrastructure will be enhanced to support a next-generation practice-based network, including:
Increased engagement of patients, health system leaders, and other stakeholders in network governance
An expanded public, open-source library of software tools and other technical resources
More formal processes for conducting feasibility pilot projects and rapid response to stakeholder queries
Expanded outreach to external stakeholders and research partners
---
Funder: NIMH
Grant Number: U19MH121738
Grant Period: 09/23/2019 – 06/30/2020
Narrative: The Methods Core will include an Informatics Unit, led by Drs. Gregory Simon and Christine Stewart, and a Scientific Analysis Unit, led by Drs. Susan Shortreed and Patrick Heagerty. The Informatics Unit will continue highly successful work over the past 8 years, supporting routine data quality assessment and descriptive analyses of diagnosis and treatment patterns across all participating health systems. New work will include development of tools and resources to assess and minimize privacy risks when sharing sensitive health data for research and development of specific new data areas (perinatal mental health and prenatal exposures, expanded list of patient-reported outcomes, and assessments of social determinants of health). The Informatics Unit will provide consultation to all MHRN core and affiliated projects and share all resources with other researchers and health systems via MHRN's public repository of specifications, code lists, and analytic code. The Scientific Analysis Unit will support to all MHRN core and affiliated projects via project-specific consultation and development of a learning community of analysts and biostatisticians across MHRN research centers. This Unit will also focus on development and dissemination of analytic methods in two areas directly relevant to MHRN research. Work on evaluating adaptive treatment strategies will build on Dr. Shortreed's recently funded methods grant to evaluate and disseminate methods for using health system data to tailor treatments for individuals with more chronic or severe mental health conditions, focusing on assessing treatment effects when treatments are adjusted or switched according to previous treatment failures or adverse effects. Work on stakeholder-driven predictive analytics will build on MHRN's development of accurate suicide risk prediction models, focusing on matching specific study designs and model development methods with stakeholder priorities and implementation constraints.
---
Funder: NIMH
Grant Number: U19MH121738
Grant Period: 9/23/2019 – 6/30/2024
Narrative: An increasing number of digital mental health technologies are being developed to expand access to mental health treatments and deliver them in a cost-effective manner. Although efficacy trials of these technologies demonstrate improved patient outcomes, especially when combined with coaching support, there is little evidence that such digital tools can be widely implemented and sustained in routine care settings.
Perinatal depression is one area of significant public health concern where the role of digital mental health technology is especially relevant. Approximately 30-40% of women with histories of depression experience relapse during the perinatal period, a majority show poor adherence to antidepressants (ADs), the most common prevention treatment, and a majority express a preference for non-pharmacologic treatments. However, effective and easily accessible non-pharmacologic treatments are not widely available. Inadequate treatment for perinatal depression poses unique risks, including potential obstetrical and neonatal complications associated with perinatal depression itself and with fetal exposure to ADs. It is therefore imperative to test the implementation of effective and scalable non-pharmacological treatments to reduce the risk of depression relapse in the perinatal period.
---
Funder: NIMH
Grant Number: U19MH121738
Grant Period: 09/24/2019 – 6/30/2021
Narrative: Age-adjusted suicide rates have been increasing in the U.S. over the past two decades. In 2017, more than 47,000 Americans died of suicide. Health care visits represent opportunities for suicide prevention because most individuals make an outpatient health care visit within a year of their suicide death and almost half have a visit within a month of their death. However, suicide risk is not always easily recognizable to clinicians—traditional clinical prediction is hardly better than chance. Predictive modeling that identifies patterns in "big data" from administrative and electronic health records has proven superior to clinical suicide risk prediction and routinely used suicide screening instruments. While predictive modeling holds promise for suicide prevention, how models should be implemented in routine clinical practice and the contextual factors that influence their use are understudied. The potential benefits of any risk prediction model, including those designed to identify suicide risks, are dependent on making sure that the models are deployed in a manner that does not harm patients, supports clinical care management, and is sustainable for health care delivery systems. We propose a pre-implementation pilot study in three settings, using one-on-one, in-depth interviews to explore health system administrators', clinicians', and patients' expectations, experiences with, concerns, and suggestions for the early use of suicide risk prediction models. In the first setting, health system administrators are still considering what might be the best implementation approach. Interviews will help us understand how various stakeholder expectations match what is actually occurring in the two other settings where small pilot studies will be in process. One of these settings is planning outreach to high-risk patients independent of health care visits while the other is planning delivery of risk scores at the point of care. By studying different implementation strategies, we can compare relative advantages and disadvantages. We are particularly interested in effects on clinical workflows, clinician-patient relationships, and patient experiences. While there is an emerging literature supporting the promise of predictive models in health care, implementation factors and patient impacts have been largely ignored. Yet decisions regarding design and modeling methods and implementation processes should be driven by stakeholder requirements. Results of this pilot study will have important clinical implications and will not only inform large-scale implementation of suicide risk prediction models in health systems across the country but will also inform development of future risk prediction models and associated care processes tailored to stakeholders needs more generally (not limited to suicide risk). The long-term goals of this pilot project are to inform ongoing health system-level efforts to reduce suicide prevalence and prevent suicides by optimizing the use of suicide risk prediction tools.